"I am the Alpha and the Omega," says the Lord God, "who is, and who was, and who is to come, the Almighty." Revelations 1:8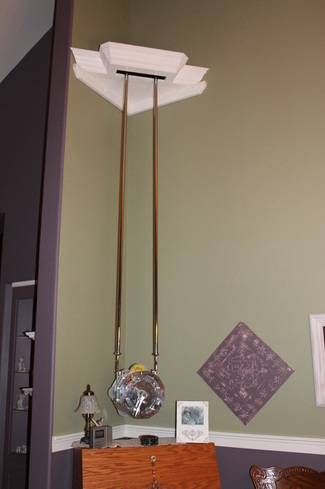 Welcome to
PAMPE CUSTOM CLOCKS.
I don't like clocks because they tell time - you can do that almost anywhere you look. I like clocks because they remind me of the eternity of time, and that God is even more eternal than that. And I build clocks to be absolutely unique - mechanically and visually.
This is my first one. One thing on my "bucket list" was to hold a patent, and I was able to get one for this clock (US 8,876,370 B1). The clock is its own pendulum - which, it turns out, has never been done before.
This clock is also unique in its
construction. I'm not a "real" clock maker; no wheel cutting equipment, no machine shop. So I built this one by hiring out some machine work, using a lot of common industrial parts and hardware, and general improvisation. There is not a single traditional clock part in the whole thing - but rather such parts as steel caster wheels and shower curtain rods from Home Depot.
Check out the photos below or click
HERE
for a YouTube video of it operating.
I am considering licensing the design or selling plans. If you have the tools and ability to make a more "professional" version of this, and are interested, please let me know at clocks@pampe.com.

God bless,
Thanks for visiting.
Mark Pampe
​​clocks@pampe.com
---